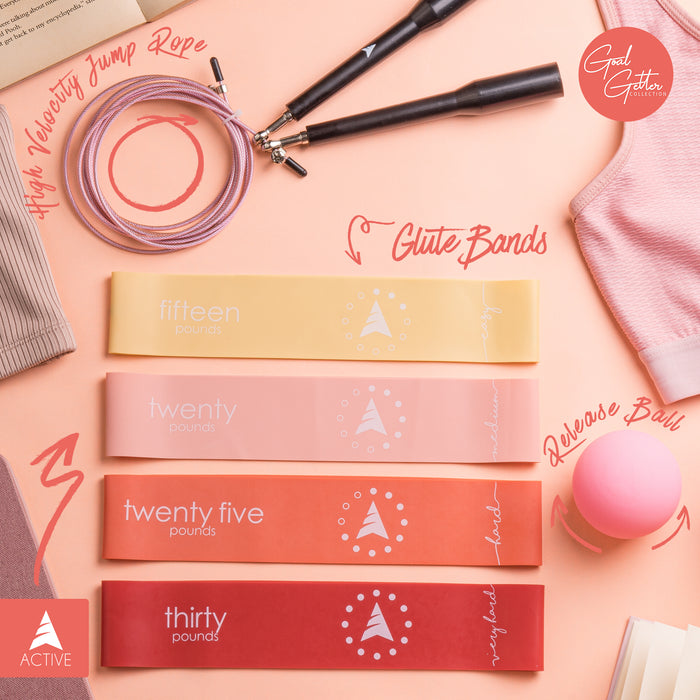 Active Goal Getter Collection
High Velocity Rope in Pink
Pumps up the heart rate and speeds up the fat-burning process by engaging many muscle groups versus other cardio activities. It's lightweight, tangle-free, and adjustable. What we like about this is that it's much easier to handle giving you a smoother cardio fix.
Product Details:
Materials: Nylon coated cable
Total length: 300cm
Glute Band Set in Blush
Beyond the booty, these bands strengthen more muscles than you can imagine. And, we've written it down for you - it comes with a friendly guide on how to shape and strengthen different muscle groups. 
Product Details:
Max resistance/Levels:

Easy: 15lbs
Medium: 20lbs
Hard: 25lbs
Very Hard: 30lbs
Pink Release Ball

Recovery is a must, too - loosen up those tight muscles you've worked so hard on with the Active Release Ball. Roll the stiffness away. Free your body from aches before the workout routine begins again to achieve more robust results.
Product Details:
Material: Vulcanized rubber

8cm L x 3cm W x 10cm H